Born in Kharkiv/Ukraine in 1961

Fields of work: Painting, Installation, Video.

Ukrainian Academy of Art, Kyiv, Monumental Painting Studies Kharkiv Institute of Art and Industry, Kharkiv, Theater design studies,m professor Shigimaga.
Affiliation in official artistic unions: Membership in artistic groups, Collaboration with Sergey Anufriev.
Important works: Foundation of the Independent public organization "Institution of Unstable Thoughts".
Curator, project "Trans-port".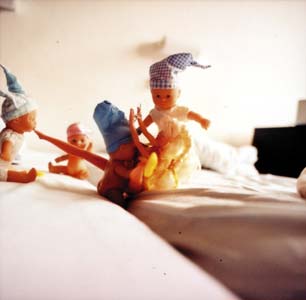 "Bed Games – NAKED", 2003
photo print on recto and verso, 50 x 63 cm