Born 1967 in Kiev, Ukraine.
Fields of work: Video, Paintings and Photography.

Important works: »Atomic love«, »Sleeping princess of Ukraine«, »LSD rabbits«.

Exhibitions: 2004 Manefesta 5, San Sebastian (Spain), 2004 Rabbits on Acid. Remont Gallery (Belgrade), 2003 Transmediale Berlin, 2003 »Flash backs« (Rebell Minds Gallery, Berlin), 2002 Moskow Photo Biennale, 1999 Museum of Contemporary Art Maribor (Slovenia), 1993 »Genetical mutations« (Gallery of the Artist Union, Kiev).

Works in Collections: Regina Gallery (Moskow), Museum of Modern Art (New York), Russian Museum (St. Petersburg), Museum of Contemporary Art (Moskow).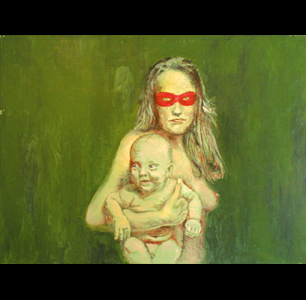 "Nurse", 2003
oil on canvas, 180 x 140 cm