CARMEN BASIRI
born 1965 in Berlin
from German-Persian parents. Grew up in Teheran from 1967 to 1981 , doing her scholarship in Persian schools. Obtaining her Abitur in Germany, she spent several months in France, giving a new frame to her language studies. Carmen Basiri has been living for now 9 years in Berlin, with a strong attraction towards music, art and culture.

PATRICK FRIELING
Born 24.06.1966

1990-1989 Product Design Studies at Art Center College Bachelor of Science
1994-1999 Graphic designer for Image Works, Selb
Since 1994 Managing director of Lucefer Licht GmbH, Berlin.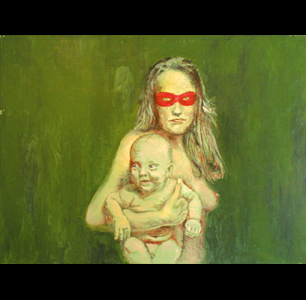 "Nurse", 2003
oil on canvas, 180 x 140 cm