Born 1976 in Paris, France.

Education:
1999 – 2000 Post-Diploma Exchange Programm (California College of Arts and Crafts, San Francisco)

1995 – 1999 Master in Art and Graphic Design (Ecole Superieure d'Arts Graphiques et d'Architecture Interieure, Paris).

Exhibitions:
2004 »Transience« Drawings and Art Video for l'Alliance Francaise (Chicago); 2004 »Frozen Moment« Art Video for Group 312 Films (Chicago); 2003 »So far, so close: past, present, future« Interactive Poetic Art Video for Ecriture (New York); 2003 »Hasardism and Texturalism« Creation of an Art Movement for a collective of artists (Chicago).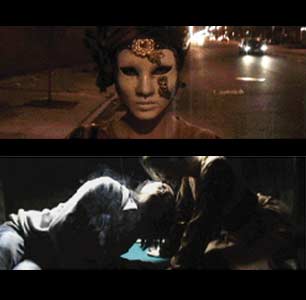 "The night is/was my world", 2003
video, variable length