Born 1958 in Brussels, Belgium.
Fields of work: Paintings and Photographie

Education:
1998 – 2000 Architecture and Studies of Electronic Arts in USA, Belgium and Germany
1973 – 1978 Art Studies at the Academie des Beaux Arts (Brussels).

Exhibitions:
2003 »Object of desire« (Rebell Minds Gallery, Berlin), 1997 The House of Arts (Seattle, Washington), 1995 Albright Knox Academy of Fine Arts (Buffalo, New York), 1984 Museum of Arts (Mykonos, Greece).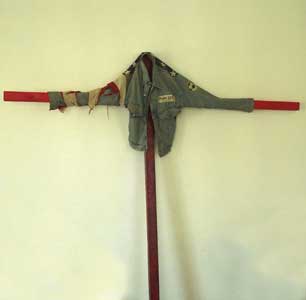 "DJs Silversurfer and Haito", 2004
oil on canvas, 185 x 100 cm